ABOUT


GRAPHIC DESIGN
ALICJA WISNIOWKA
ANDREW KIM
ANGELA SUN
ANGIE WIJAYA
CARLYN SOARES
CHARLOTTE KERSHAW
CIARAN BRANDIN
CONGCONG WANG
ERIC RANDALL MARKUS
FIONA LIN
GABRIELA TIRADO
HEEYEON KIM
JIAYI MA
KABITA DAS
KAYLAH HAYE
MAUREEN BURNS
YIAN ZHAO
OLIVIA WILLIAMS
SARAH CUMMINGS
SARAH PERKINS
SHARON ZHONG
SKYLER TSE
VALENTINA WICKI
WENJING LIU


PAINTING
BRIDGETTE REILLY
ELANNA HONAN
ELLEN KANELLIAS
GREY LENNON
HANMO ZHOU
KIMBERLEY ZAK
OLIVIA JAMES
TIMOTHY JAMES BERGERON
XIAN MARIE AZU-BOLES


PRINTMAKING
LEO FEININGER
MICHAEL LAUNGJESSADAKUN



SCULPTURE

BARBARA KANG

DEVIN WILSON

NINA MILLER

SOFIJA CHRONEOS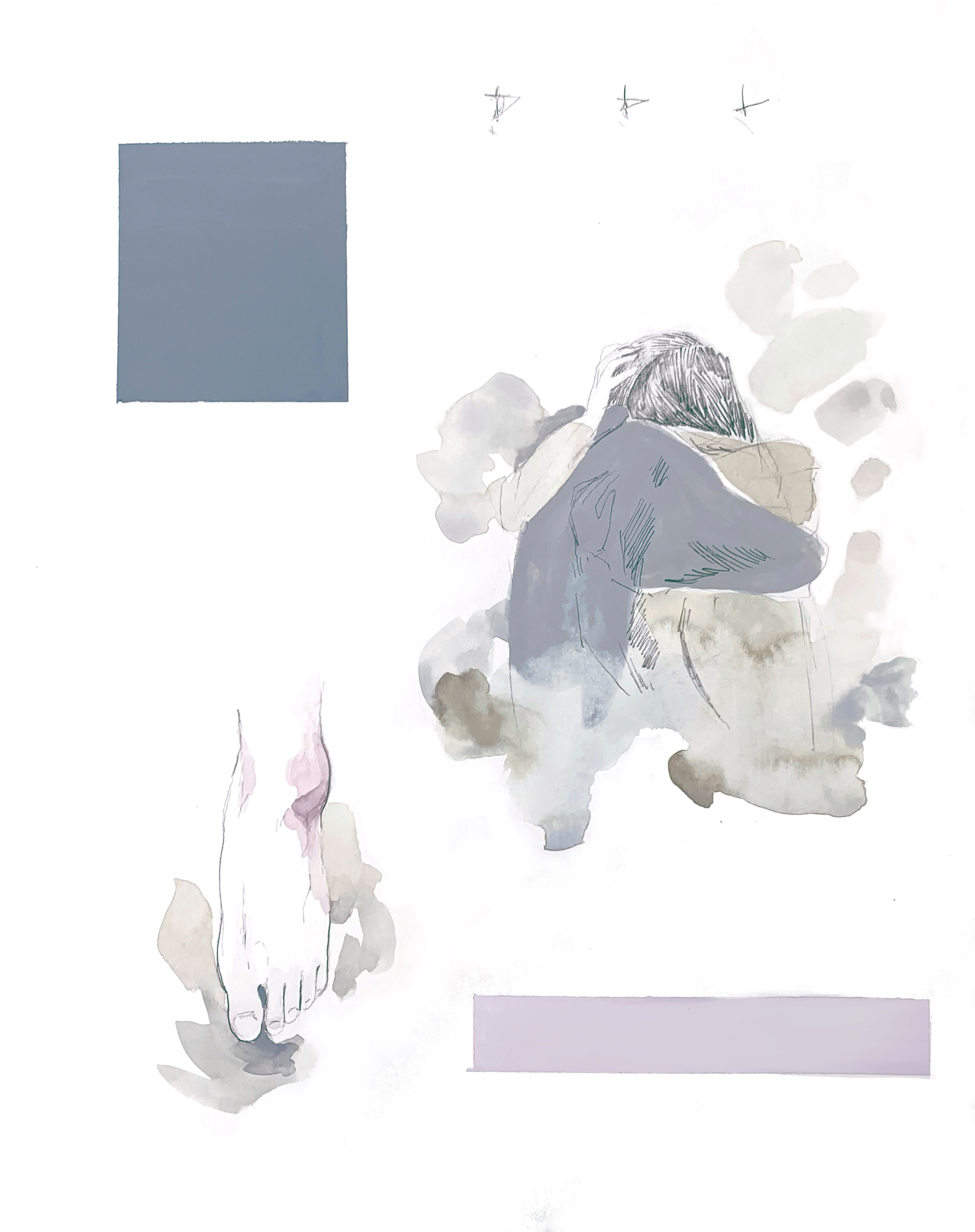 ELLEN KANELLIAS
ellenkanellias.com
Trying to make a collage of time is difficult. When thoughts are scattered, memories fragmented, how can the pieces coexist? Do we break them apart, divide them, separate them further? Or do we allow them a home? A chance to reconcile? A place to heal?
In a sense, these are comics; images placed in a sequential order to convey a message or story. Creating these fictional spaces allows these errant thoughts to come together, though, in truth, it's an attempt at replicating some semblance of peace in a chaotic mind. These works are whispers of thoughts that I've given room to become conversations, allowing internal dialogue to exist in an external, physical space. I give objects identities, inanimate colors voices, things that are long-dead life, and then I use them to tell stories. Sometimes they are wordless, sometimes loud. They are a space to express emotion when the written word feels too permanent but speech too volatile.
Paper gives me the material to build a home for these wayward memories when it often feels like they have none. The page allows me to provide a space where these vagabond thoughts can rest, even if for just a moment.
Mom and Dad, gouache on paper

Home, gouache on paper

Expectations, gouache on paper

Failure, 2020, digital, 9 x 12"

Objectify, 2020, digital, 9 x 12"